Message from the President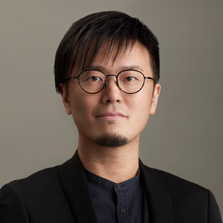 My name is Eisuke Tachikawa and I have been appointed as the President of JIDA this year.
JIDA was founded in 1952 by 25 designers including Sori Yanagi, Isamu Kenmochi, and Chikara Watanabe, and has the longest history amongst design industry associations in Japan. It is one of the founding organizations of WDO (The world design organization, formerly ICSID), which currently has 40 countries participating. This is who we are: JIDA. And that is why I want to tell you more about us.
From the very beginning, JIDA has never been an authority figure patrolling a narrow industry; we are an experimental design movement that inspires social change.
After 70 years of rich history, JIDA changed its name from "Japan Industrial Designers Association" to "Japan Industrial Design Association" this spring. At the same time, we changed the qualifications for membership from "professional designers" to "professionals involved in industrial design," opening the door to professionals in many fields who cultivate design, such as engineers, researchers, curators, and material manufacturers. We no longer live in an age where only designers do design. Redesigning our industry can only be achieved through co-creation that goes beyond the expertise of designers.
As the first step of this transition, I believe that having a newcomer like me become the president of the board of directors is a message from JIDA to our society, that points out how design is evolving.
I would like to tell you about how I became the president of the board. Until right before I took office, I never would have imagined that I would become the president of the board. This was because I believed that Shuichi Misono, who led Toyota design together with Kazuo Tanaka, former president of GK Design Organization, whose term was about to expire, would be perfect as the new president. However, both of them as well as all of the members had always told me they wanted to make JIDA fresh and young again. Just before the end of my term as a board member, they proposed to me, "Mr. Tachikawa, will you take on that role?", and as the new board of directors unanimously agreed, here I stand as the youngest President in the long history of JIDA.
I wanted to include the circumstances behind my investiture in this greeting since I believe that not only we, JIDA, but the modern Japanese industry, need adults willing to pass on the baton in the future. We may make mistakes, we may jump over conventions; but no one knows the future, and change is full of mistakes in the first place. I see design as an evolutionary process, and I believe that the power to create evolution for the future lies not in inertia, but in the haphazard movement of the small.
For a long time, industrial design referred to design for the industry. However, we live in a time of instability where the key industries are undergoing dramatic changes. The future of industrial design could be with redesigning the industry to overcome planetary and ecological limits, as well as the dramatic changes caused by digitalization. And at the core of the great transformation that has already begun is design as a shared philosophy that transcends disciplines.
Like the baton I received from my predecessors, JIDA will continue to inspire the design field to create beautiful changes in the industry, so that we can pass the baton of civilization to the next generation.
We would like to welcome not only current members but all who want to redesign the industry to join JIDA and use this organization as a hub to create new designs.
Designing beyond design.
We look forward to working with you in the newly reborn JIDA.
June 12, 2021
Japan Industrial Design Association
Eisuke Tachikawa, JIDA President
---
太刀川 英輔 (たちかわ えいすけ)
President of NOSIGNER / Evolutionary Thinker / Design Strategist / Specially Invited Associate Professor at Keio University / Creator of the basic concept for the Japan Pavilion at Expo '2025 Osaka Kansai
NOSIGNER's activities are centered on creating a beautiful future through design (practice: social design) and fostering change makers through creativity education learned from nature (philosophy: evolutionary thinking).
Beyond the design fields of products, graphics, and architecture, he has drawn up comprehensive strategies and led them to success through numerous industrial designs that promote industrial change, such as next-generation energy, regional revitalization, and SDGs.He is a creativity researcher and educator who advocates "evolutionary thinking," learning creativity from biological evolution, and fostering change agents in various sectors.
He has received more than 100 international awards, including the Good Design Award Gold Prize and the Asia Design Award Grand Prize.
He has served as a jury member for Good Design Award (Japan), DFA (Hong Kong), DIA (China), Golden Pin (Taiwan), VMARK (Vietnam), WAF (World), and others.
Major projects include OLIVE, Tokyo Disaster Prevention, PANDAID, Mt. Yamamoto, Yokohama DeNA Bay Stars, YOXO, and the Japan Pavilion Basic Concept for Expo 2025 Osaka/Kansai.
He is the author of Design and Innovation (2016) and Evolutionary Thinking (2021).