The 9th JIDA Kansai Block Student Design Award 2023 Entries Now Open
New Information JIDA
Kansai bloc:是枝靖久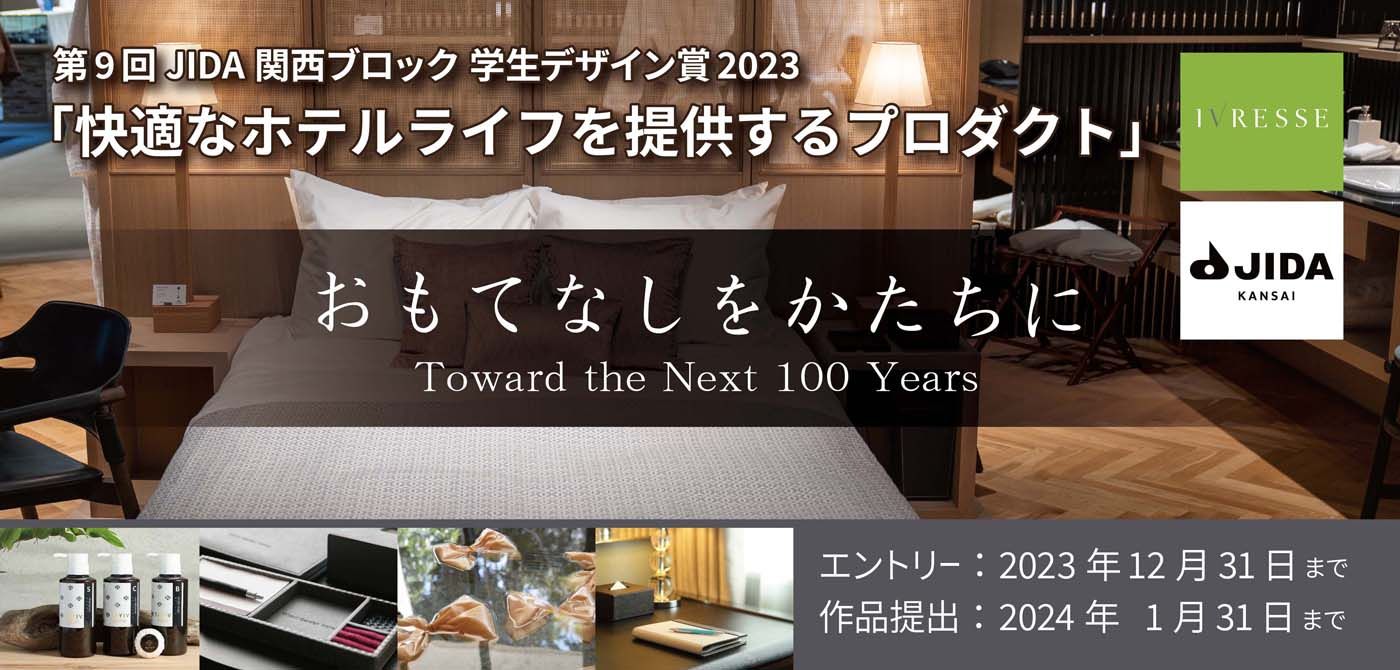 The Japan Industrial Design Association (JIDA) Kansai Block has been hosting the "Education Forum" since 2013 and the "Student Design Award" since 2015, with many students from all over Japan participating. The "Education Forum" has featured keynote speeches, presentations of outstanding entries for the Student Design Awards, and an award ceremony.

The 9th JIDA Kansai Block Student Design Award for 2023 will be sponsored by Eveleth Corporation.
Since its establishment, Eveleth Corporation has been developing its business with the mission of transforming "nice things" and "things that are nice" into a form that people can feel as "hospitality". The company provides "comfort" to guests in a wide range of fields, including production, interior design, and products for a variety of accommodations, including hotels and inns.
In this year's Student Design Award, we are looking for innovative ideas for products for comfortable stay in hotels.
---
【Outline of the event】
■Theme "Products for comfortable hotel lifeAs hotels are diversifying, we seek free proposals for products that make hotel life more comfortable, such as "I wish there was such a hotel" or "I wish hotels had such a thing".
<Reference> Main hotel spaces: Bedroom, desk space, living space, mini-bar, bathroom, restaurant, etc.
■Eligibility for Application:Students of universities, graduate schools, or vocational schools in Japan, who are able to make a presentation at the final judging scheduled in March 2024.
■Award:1 Grand Prize, 2 Excellence Awards, Eveleth Awardone point、JIDA1 prize(Total 5 items)
Each prize winner will receive a certificate and an extra prize.
■Judge:EVELESS Corporation + JIDA Kansai Block Steering Committee Member
■Screening Method
・First stage screening:Screening by PDF data
・Final review:Judging by presentations of works that have passed the first round of judging
■Screening Criteria
・New ideas and concepts that are not bound by conventional concepts
・Attractive as a product design
・Commercialization and feasibility will also be considered.
■Preliminary Screening and Submission
PDF data file (1 A3 size sheet summarizing idea sketch, concept and other explanations)
■Application and work submission address
JIDA Kansai Block Student Design Award
Please fill out the entry form at the URL below and submit your entry.
https://forms.gle/S2dndHGRu5Da6Bph6
※We will contact those who have submitted their entries with submission instructions.

■From entry to announcement of results
・Entry  September 2023 - End of December 2023
・Artwork Submission  End of January 2024 (PDF data submission)
・First stage screening  Mid-February 2024 (review in PDF data)
・Final review  Mid-March 2024
        Award ceremony and keynote speech at the Education Forum to be held on the same day


■Organizing Japan Industrial Design Association, Kansai Block
■Support Eveleth Corporation(https://ivresse.jp/)
■Contact information (for inquiries) (e.g. corporate phone number) Japan Industrial Design Association (JIDA) Kansai Block:jida.kansai@gmail.com
---
■Precautions
・Entries must be unpublished works both domestically and internationally.
・As a rule, the intellectual property rights of all entries and award-winning works belong to the entrant.
・Duplicate entries to other competitions are not allowed. No duplicate entries will be accepted and will not be made public without the consent of the organizer.
・Applicants are requested to take measures to protect their own rights, etc., as necessary.
・If the winning entry is identical or very similar to a previously published design, or if it infringes on the intellectual property rights of a third party, the award may be revoked even after the award results have been announced.
・In the event that it becomes necessary to make arrangements regarding matters other than those listed in the application guidelines, the organizer will make such decisions at its own discretion.
・Applicants may withdraw their applications if they do not agree with the content of the application, but the organizer will not be responsible for any costs incurred in the application process.